Top Violations In General Industry Manufacturing
General industry manufacturing and construction employers are subject to more stringent requirements than other employers, such as a law office or hair salon. Because of the nature of the work in manufacturing and construction, employees are subject to far more dangerous hazards, and employers are required to comply with OSHA standards to mitigate risks and reduce injury.
Like the metal industry and other manufacturing industries, the innate risk involved with the work and high volume of touch points dictates the need for more safety procedures to reduce the chance of OSHA violations.
Understanding Year-Over-Year Differences In Certain Violations
From 2014 to 2015, we saw a spike in certain violations. For example, in 2014, Machine Guarding was #9 on the list in General Industry. For 2015, it jumped to #6. The reason has to do with new recordkeeping and reporting processes, and the fact that this year OSHA made it a rule to report all amputations. Last year they did not. Therefore, when an amputation is reported, it triggers an investigation, and in many cases OSHA inspectors find that safety standards related to machine guarding are not being followed and a citation is issued.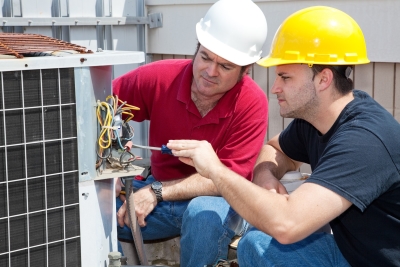 Since the new final rule for Recording and Reporting Occupational Injuries and Illnesses went into effect in 2016, we can expect to see more such spikes as more workplace injuries are correctly reported and investigated.
Knowing these top violations in general industry manufacturing and construction can help you develop, implement and enforce workplace safety management programs that keep workers safe, and comply with OSHA standards.
Top Violations In General Industry Manufacturing
In manufacturing facilities, it's not uncommon to see Respiratory Protection and Lockout/Tagout top the chart of violations, and 2015 was no different. Hazard Communication serves to warn workers about the hazards of chemicals used within a workplace. In 2016, the new Hazard Communication standard went into effect, and many employers had not yet implemented and trained workers on the Globally Harmonized System (GHS) requirements, leading to an increase in corresponding violations.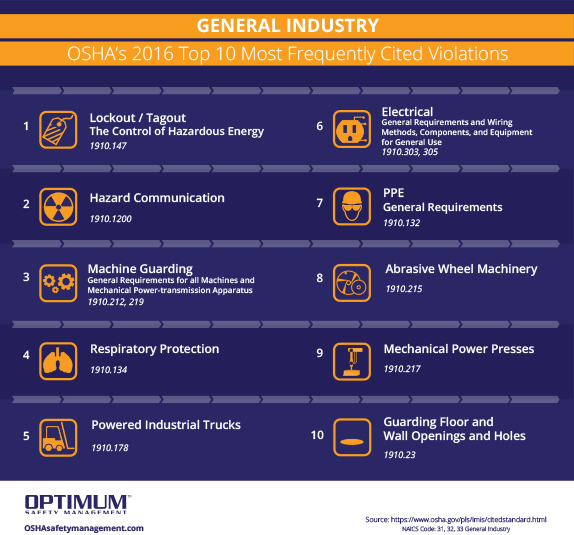 Click Here to Download This Infographic
Top Violations In Construction
A naturally hazardous industry, construction has its own OSHA standards that often go above and beyond those in general industry. In 2014, Fall Protection topped the violations chart, and 2015 saw no change. Falls were followed closely by Scaffold and Ladders violations, which are intrinsically related to fall hazards.  While the General Industry recently saw a new final rule instated to update walking-working surfaces and fall protection, the construction industry has always had more rigid requirements. Unfortunately, fall hazards are a part of the construction business, and the high number of OSHA violations related to falls proves the need for better workplace safety management programs that include comprehensive fall protection plans.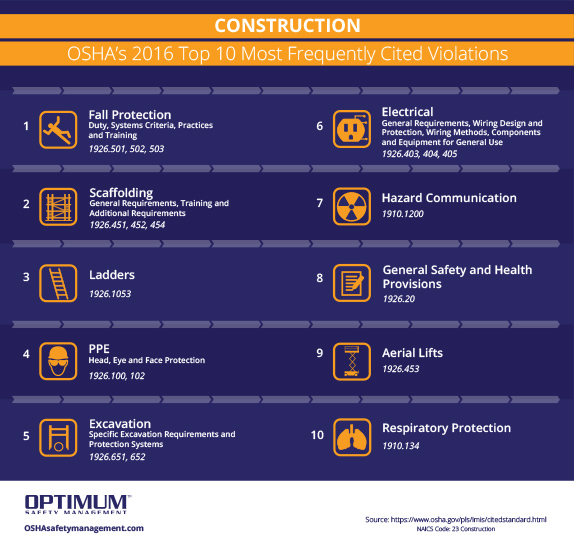 Click Here to Download This Infographic
Optimum Safety Management Can Help You Avoid These Top Violations
Keeping employees safe in hazardous industries like manufacturing and construction is a top concern for both employers and OSHA. Optimum Safety Management can evaluate your current workplace safety management program and work with your company to ensure it remains compliant with OSHA standards.  Contact us at 630-759-9908 for your free consultation.