The New Respirable Crystalline Silica Standard
Seven Months of OSHA Violations Provide Insight on Future Enforcement for Construction and Industry
The Respirable Crystalline Silica standards are the new reality for construction and industry.  Some hoped the new standards would be repealed, or that the courts would strike them down.  However, the United States Court of Appeals dismissed the legal challenges filed by the Associated General Contractors of America and other industry groups in the Court's December 2017 decision.  While employers delayed compliance, OSHA began enforcing the Respirable Crystalline Silica standard for Construction (29 CFR §1926.1153) immediately.  Within a week of the September 23, 2017 enforcement date, violations were issued to multiple employers.  Optimum Safety Management obtained OSHA enforcement data from the Department of Labor that proves OSHA is holding employers accountable for complying with the new silica standard.  This data also reveals what to expect as OSHA continues to enforce the construction standard, and what industry can expect when enforcement begins on June 23rd.
The following chart shows all silica standard violations broken into 7 different categories: Air Monitoring, Table 1, Written Exposure Control Plans, Training, Respiratory Protection, Medical Surveillance and Housekeeping: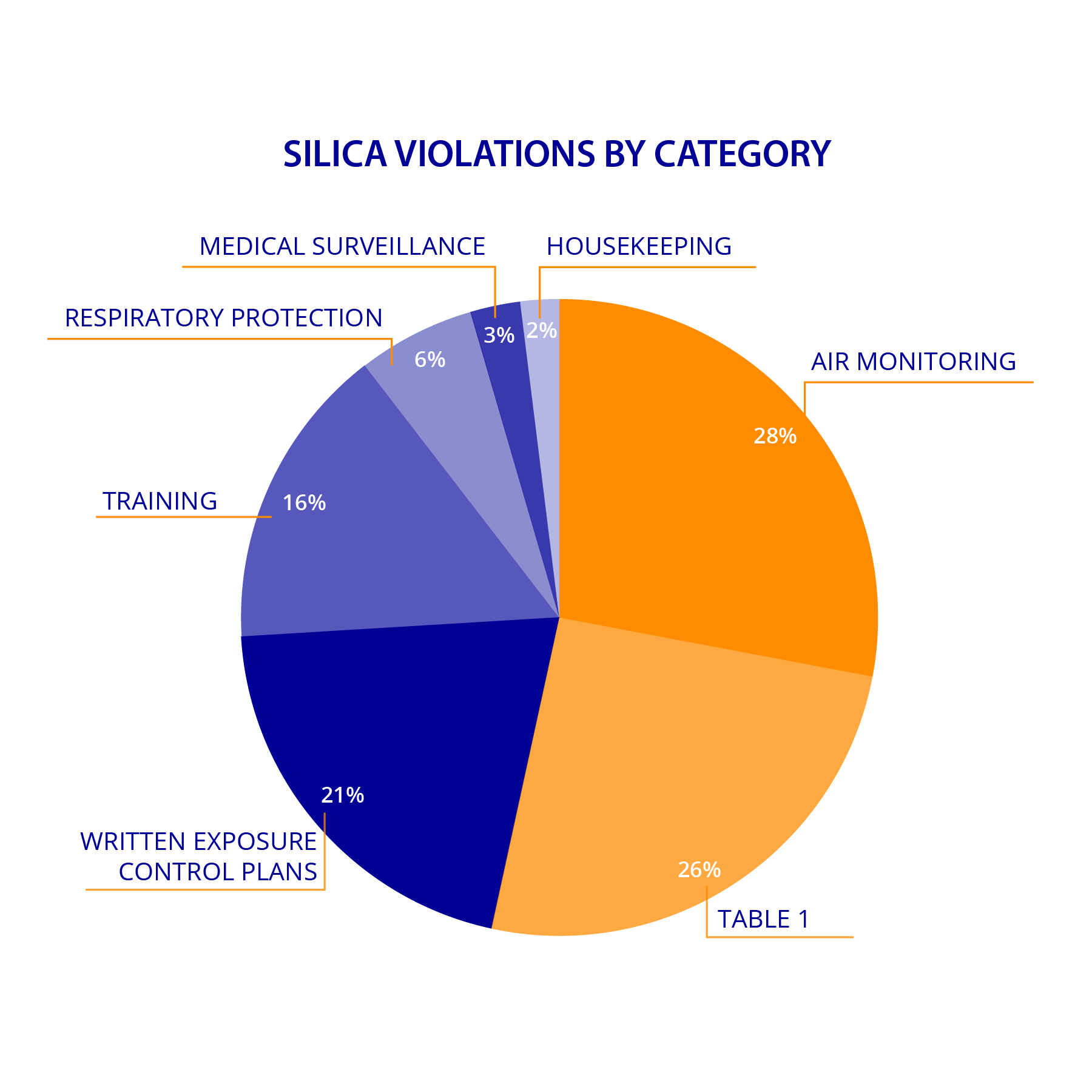 Identifying and testing exposures from respirable crystalline silica producing tasks and following written exposure control plans (including Construction's Table 1) is essential.
Of all the construction violations, more than half were issued to employers who failed to properly protect their employees.  They failed to use the standard's specified exposure controls, also known as Table 1, or failed to implement alternate exposure controls when Table 1 could not be used exactly or at all.
Construction employers must ensure the following:
Employees are trained to use Table 1 exactly
Identify tasks that may expose employees to respirable crystalline silica above the action level (AL) that are not on Table 1, then test and document exposure levels through air monitoring.
For tasks that are not on Table 1, exposures above the permissible exposure limit (PEL) must be reduced below the PEL, or to their lowest feasible levels.
Inspectors will issue violations when (1) Table 1 controls are not followed precisely, (2) when air monitoring has not been performed and/or documented, (3) when alternate exposure controls are not developed or utilized, and (4) when the controls developed in written exposure control plans are not followed.
Unfortunately, the industry silica standard does not have a Table 1; based on construction's enforcement, OSHA Inspectors will look for air monitoring data and documentation for every task that could reasonably expose employees to respirable crystalline silica above the action level. Violations will be issued when engineering controls, work practice controls, and respiratory protection are not implemented and when written exposure control plans are not followed.
Don't fall short with Written Exposure Control Plans (WECP).
Of all citations given in the past seven months, 20% were related to Written Exposure Control Plans. Keep in mind that there are several requirements in the standards related to written exposure control plans, and OSHA needs to see that all requirements are met.  Before someone from OSHA asks to review your WECPs, make sure that you review the plans to ensure they have everything required in the standard. Check to ensure they include housekeeping measures, and that they are readily available to employees to examine and copy upon request.
Update your programs and train your employees
The remaining violations were issued to employers who failed to properly train their employees, to utilize or implement an adequate respiratory protection program, to implement a medical surveillance program, and to update housekeeping practices.  Don't lose sight of the "small things" while tackling the larger issues.  These don't account for a large percentage of the violations that have been issued, but they still contribute to the $400,000 in initial penalties that OSHA has issued in the first seven months enforcing the construction standard.
If you have questions regarding the new Respirable Crystalline Silica Standard or need help reaching full-compliance, contact us. Our team is ready to help.