The New OSHA Silica Standard | 10 Steps Your Company Can Take To Avoid Painful Fines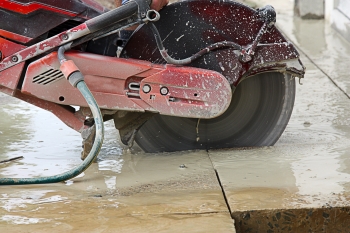 The new OSHA silica standard is here to stay (it cannot be repealed) and companies must comply by June, 23 2017. If OSHA sees a white cloud they are going to target four standards to cite as a starting bundle package (additional citations may occur):
1926.1153(c) Specified exposure control methods – $12,500
1926.1153(g) Written exposure control plan – $12,500
1926.1153(h) Medical surveillance – $12,500
1926.1153(i)(2) Employee information and training – $12,500
Total – $50,000
OSHA will probably be looking for press releases early after enforcement begins.
Silica Safety Compliance Plan
OSHA's new rule to protect workers from exposure to respirable crystalline silica has affected many companies across a large number of industries. The stakes for non-compliance are high for employers across the board. Developing a system to adequately protect employees from silica exposure and assure complete compliance is not a simple process, and the June 23, 2017 compliance date for construction is coming up fast – a little less than 5 months from the time this article is posted.  There is a lot of work to do to develop and implement a silica compliance plan.  Appointing a person or team to oversee your company's compliance program and implement these ten steps will ensure you are on the right track.  Optimum Safety Management can assist with every step in the process.
Complete an exposure assessment to identify weaknesses in compliance, then develop a detailed plan to correct those issues identified.
Complete industrial hygiene (IH) sampling for respirable silica (particles measuring 10 microns or less in diameter) to ensure that your work environment is within tolerances. The maximum allowed under the new OSHA silica standard is 50 mcg per cubic meter of air, averaged over an eight-hour shift.
Develop a corporate silica safety program, which should include, at a minimum, a written plan for handling and use; exposure prevention and protective gear; a training plan for managers, supervisors, and employees; an exposure response protocol; and schedules for refresher training and medical monitoring.
Develop written exposure control plans (WECPs) that specifically identify tasks that involve potential exposure, procedures to restrict access to work areas where exposure is likely, and the control measures implemented to prevent or minimize exposure to employees who work in those areas.
Purchase new engineering controls as needed to comply with WECP provisions for exposure prevention. These controls may include substituting other materials for silica, ventilation system controls, or other mechanical measures to isolate or eliminate a potential exposure source.
Conduct training on the new standard and the WECPs, with separate training for managers and supervisors in managing exposure incidents, and ensuring that employees are up-to-date on training and compliant on a daily basis.
Provide an initial medical examination for all employees who will wear respirators for 30 days or more per year for protection from silica exposure. This documents each employee's "starting state," and may help protect you from liability claims resulting from exposure your company did not create.
Designate trained and responsible people to make frequent and regular inspections of job sites, materials, and equipment, and employee practices, to reinforce the written exposure control plan and assure full compliance.
Conduct an annual review and evaluation of your company's written exposure control plan to be certain that it's as effective as possible in protecting your employee's health and maintaining full OSHA compliance. Update as necessary, and re-train managers, supervisors, and employees on updates.
Provide medical examinations for employees at least every three years, or more frequently, if recommended by the physician or other licensed health care professional (PLHCP).
OSHA Safety Compliance Program Assessment & Management
Developing and implementing an effective plan for full compliance with the OSHA silica standard requirements can be a daunting task. Optimum Safety Management specializes in helping companies like yours run a safe and compliant operation to protect your employees and keep up with ever-changing compliance regulations. For a safety management system analysis, or for help developing, implementing, and managing your safety and compliance programs, contact us and we'll help you create the most effective and cost-effective programs for your specific business.